Content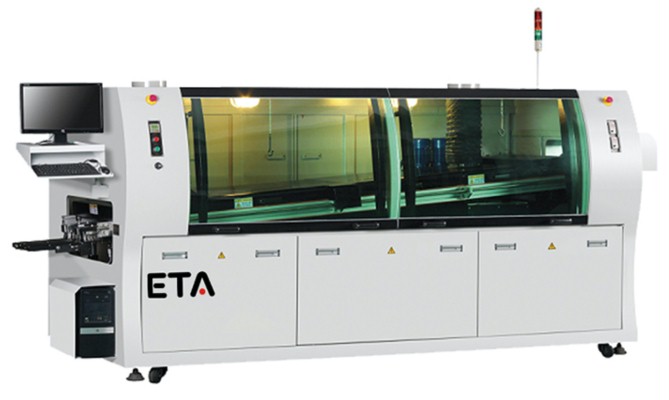 ❙ Introduce
1.Nozzle: Japan Kuroda Seiko nozzles, adjustable atomizing area, ensuring the long time spray uniformity and reliability.
2.Spray control: computer control or manually adjust switch, precise control the spray time, spray speed, economy and environmental protection, digital FLUX flow, spray flow, angle, density, width and other parameters can be recorded.
3.Cleaning device: automatic cleaning, modular design, easy maintenance.
4.Temperature Protection: third-party over-temperature protection, multiple protection layers to ensure safe operation.
5.Products comply with CE, CCC, UL and other standards and specifications.
6.User-friendly design: fault detection (such as heaters abnormal alarm, etc.), regular maintenance reminders,economy functions, emergency manual transmission function and tool-free maintenance, reduce equipment failure rates.
7.Heating module: horizontal reflow design makes each heating zones not influenced by adjacent zones to ensure accurate temperature curve, while ensuring high production capacity and heat exchange capacity, and achieve high adaptive capacity (to meet the soldering of automotive electronics, communications, electronics, computers and mobile phones, and other consumer electronics.).
8.Moving parts: Computer adjustment, stepper motor control, accuracy and stability, to ensure accurate spray.
9.Temperature control: PLC + PID independent temperature control, real-time monitoring preheat temperature.
10.Core components: using imported components to ensure long-term stability of equipment operation, reduced maintenance costs. 11.Can choose different configurations of flux processing system, to ensure the furnace hall clean.
12.Closed-loop transmission speed control systems, transportation control accuracy ± 2mm / min, ensuring speed more stable.
13.Dross Collection: Automatic dross return channel,the most energy-efficient channel design.
Model

W4

W3

W2

Dimension:(mm)

4200X1250X1500

3600X1250X1500

2900X1160X1500

Weight(kg)

Approx.1500kg

Approx.1200kg

Approx.790kg

Power Supply

3P5W,380/220V 50Hz

3P5W,380/220V 50Hz

3P5W,380/220V 50Hz

Startup Power

32kw

24kw

16kw

Operation Power

12kw

9kw

7kw

Control System

PLC

Spray System

Transmission Method

Step motor

Spray Pressure

0.25Mpa--0.4Mpa

lux flow

10--100ml/min

Exhaust Diameter

Φ200mm

Exhaust Capacity

25m3/min

Preheating System

Preheating Mode

Hot air

Control Mode

PID + SSR

Preheating Zone

4

3

2

Preheating Length

1800mm

1600mm

1200mm

Preheating Temp.

(Room Temperature)-250°C

Warm-up Time(min)

Approx.15min (setting 150°C)

Conveyor System

PCB Size:LxW(mm)

Min:80x60mm; Max:400x300mm

Conveyor Speed

0-2000(mm/min)

Conveyor Height

750+/-20 (mm)

Finger

Double hook claw (Standard)

Conveyor width control

Manually

Conveyor Angle

4~7degree

Soldering

System

Solder Pot style

Mechanical

Motor

drive

Solder Pot Material

Full Titanium (Standard FT)

Solder pot temperature

300°C

Solder pot capacity

Lead-free 350kg

Lead-free 3

0

0kg

Lead-free

2

50kg

Ot

her

Finger cleaning system

B

rush
❙ Related Keywords
Wave Soldering Machine,Wave Soldering Machine Manufacturer,Selective Wave Soldering,Selective Wave Soldering Machine,Mini Wave Soldering Machine,Wave Soldering Equipment,PCB Wave Soldering Machine,PCB Wave Soldering,PCB Soldering Machine,PCB Soldering Dual Wave Machine,SMD Wave Soldering,Lead Free Wave Solder Machine,Automatic Wave Soldering Machine,SMT Wave Soldering Machine,Dual Wave Soldering Machine,DIP Wave Soldering Machine,Through Hole Wave Solder.
❙ ETA Customer Factory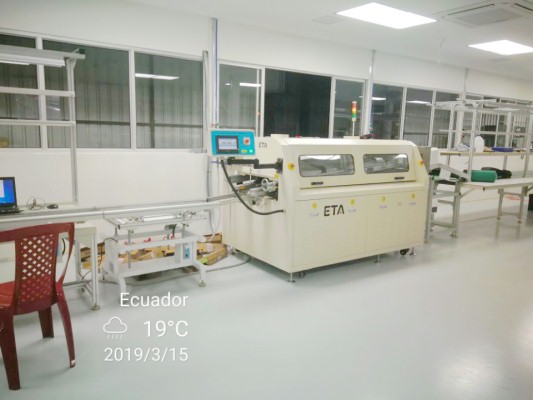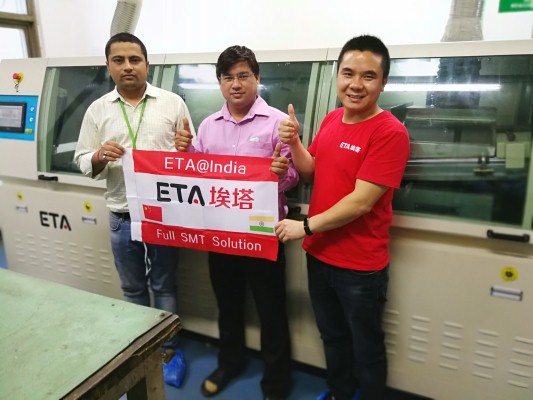 ❙ Company Proflie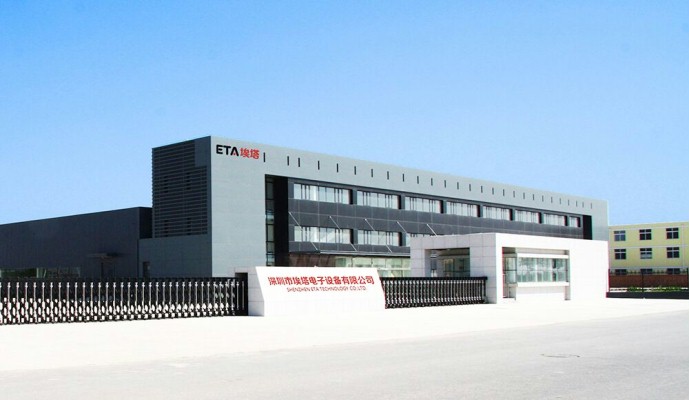 Shenzhen ETA Technology Co., Ltd. Expert in Making Customized High Quality SMT LED Pick and Place Machine, SMT LED Reflow Oven, SMT LED Stencil Printer, SMT Production Line, LED Assembly Line With More Than 23 Years Experience.
Our Goal is to Provide Customers With the Best Service Possible and to Produce Excellent Quality Products That Will Meet or Exceed Your Expectations.
Successful Experience:
Eta's Customer In 35 Countries Around the World
1. We Have Been Helping Customers To Build a Lot of New Factories Around the World.
2. Training More Than 500 Experts and Technician for Customers.
3. Became the Most Reliable Chinese Partner for You.
For SMT Factory Setup, We Can Do for You:
1. We Provide Full SMT Solution for You
2. We Provide Core Technology With Our Equipments
3. We Provide The Most Professional Tech Service
4. We Have Wealthy Experience on SMT Factory Setup
5. We Can Solve Any Question About SMT
❙ ETA Exhibition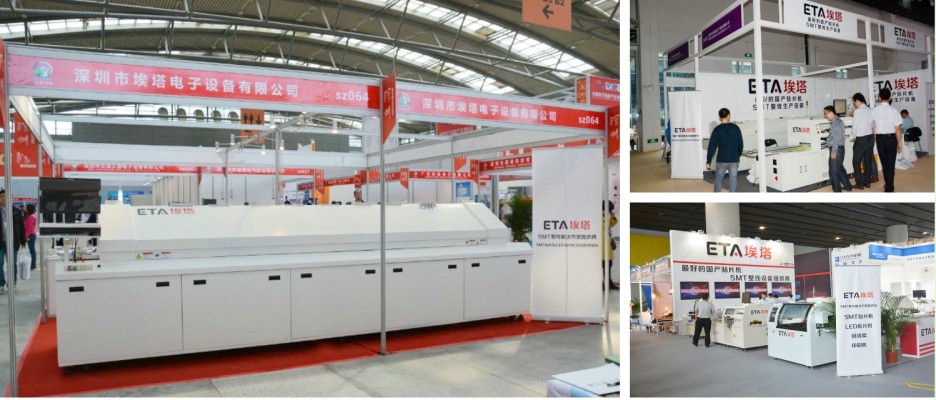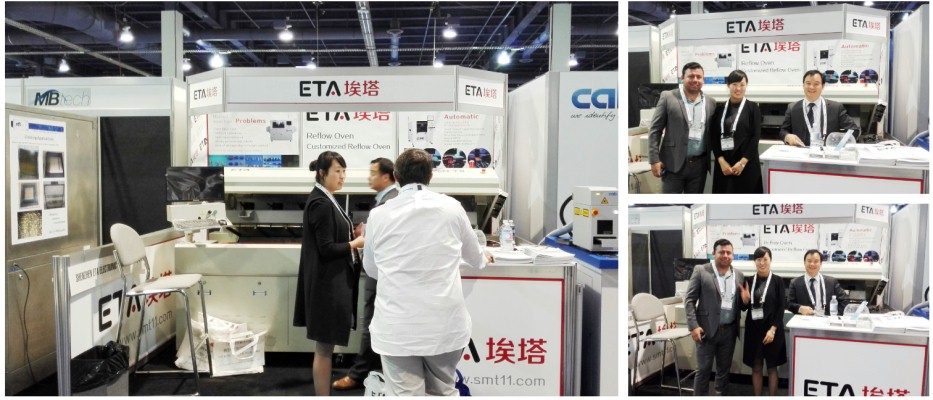 ❙ ETA Products Certificate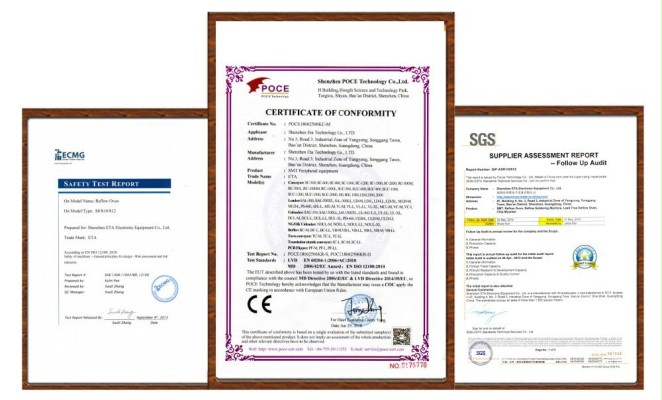 ❙ ETA Global Service
❙ Customers' Feedback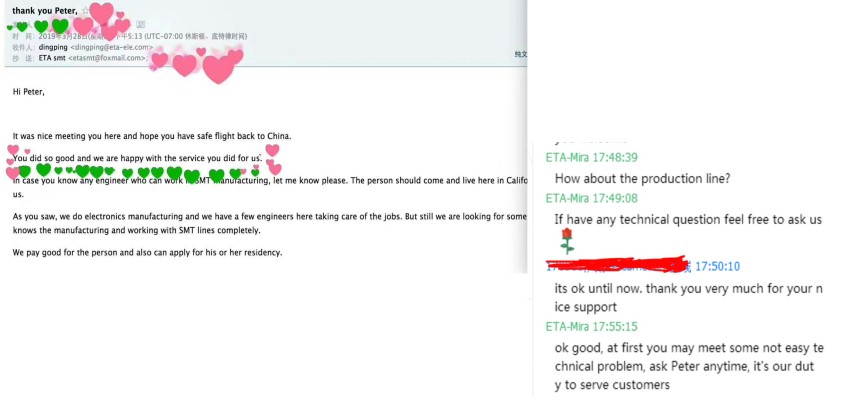 ❙ FAQ
Q: What we can do for you?
A: Total SMT Machines and Solution, professional Technical Support and Service.
Q:Are you a trade company or a manufacturer?
A: OEM & ODM service are available.
Q: What is your delivery date?
A: The delivery date is about 35 days after receipt of payment.
Q: What is your payment terms?
A: 30% deposit in advance and 70% balance before shipment.
Q: What your main customers?
A: Huawei,Foxconn,Vtech,Sumida,Kemet,Vishay,Bosch,Canon.
A: Leading SMT Supplier in China; Trade assurance to USD 560,000+; Professional after-sales service team.
❙ Main Keywords
Reflow Oven,Pick and Place Machine,SMT Machine,SMT Line,Wave Soldering Machine,Reflow Soldering Oven,SMT Equipment,SMT Pick and Place Machine,Chip Mounter,PCB Cutting Machine,SMT Reflow Oven,Pick & Place Machine,SMD Soldering Machine,SMT Aoi,SMT Conveyor, SMT Solutions, Chip Shooter, PCB Cleaning Machine, Reflow Machine, PCB Soldering Machine, SMT Assembly Line, SMT Stencil Printer, PCB Reflow Oven, Reflow Soldering Machine, SMT Oven, Pick n Place Machine, SMT Production Line, Solder Paste Printer Machine, SMT Screen Printer, LED Pick and Place Machine, SMT Line Machine, LED Production Line, SMT Nozzle Cleaning Machine, LED TV Production Line.
If You Could Not Find Any Similar Items You Want, You May Send Some Photos to Us. Because Our Catalog and Website Haven't Included All of Our Products.
❙ DIP Soldering Machine Video